Today, I'll be talking about art! But first things first. Breakfast.
I make a hot breakfast for the Lewisville kids about 3-4 times a week. Remember, we home school so there's no rush to get out of the house. They love crepes (the french pancakes), baked oatmeal with peaches and cream -minus the peaches, and of course our Sunday morning favorite right after church, french toast, hash browns, and bacon. The other days, the kids have to slave away making their own bowl of cereal. No, I don't feel guilty.
Cereal goes pretty fast in Lewisville. Not only do the kids have it for breakfast a few times a week, but it has happened on a few occasions when the kids and hubby have gone to bed that mom will sneak a bowl for a late night snack. Come on, I know I'm not alone. And, no, I'm not talking about the "healthy" cereal we buy because we're parents who are getting older and needing to eat healthy. We tell ourselves we love granola and tasteless flakes that are hard as rocks. Blah, blah, blah. Though I like granola, during those late night snack sessions, my reach goes beyond the heart healthy brands and moves ever so slightly to pick up what I'm craving- Frosted Flakes and Cocoa Pebbles, or any version of sugar and milk I happen to have in my pantry. So satisfying and now late at night as I'm typing this post, I suddenly have a hankering for a bowl of joy, I mean cereal.
But I will refrain and get to the reason for this post that has a very long introduction. Cereal and Art? How do the two go together? Like this:
ShopBathroomLighting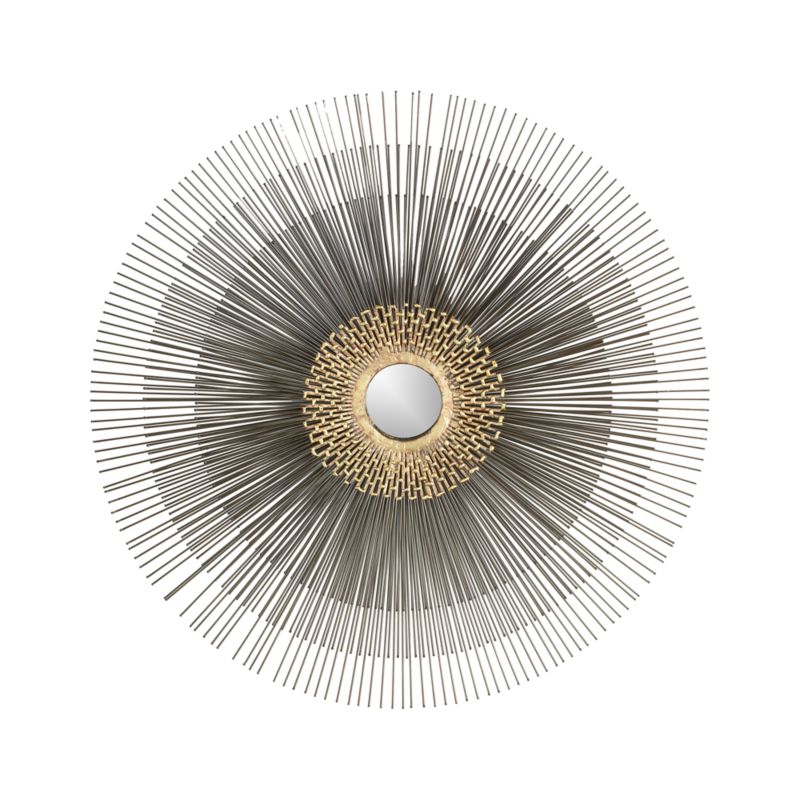 Crate and Barrel
These mirrors are pretty and would add delight to any room, but my job as the chief purchasing officer of Lewisville ironically requires me to make as few purchases as possible. Do you see my conundrum here? So when I saw all the starburst people were making with wood dowels and those sticks you use to mix paint, I knew it would only be a matter of time. And it was. I saw
this blog post
by Stephanie Lynn and realized the decorating fairies were calling me and ordering me to copy it. Ok, maybe that was just in my head, but since I had all the materials (cereal box and glue) I figured it was a sure sign to start creating. Just go with me on this.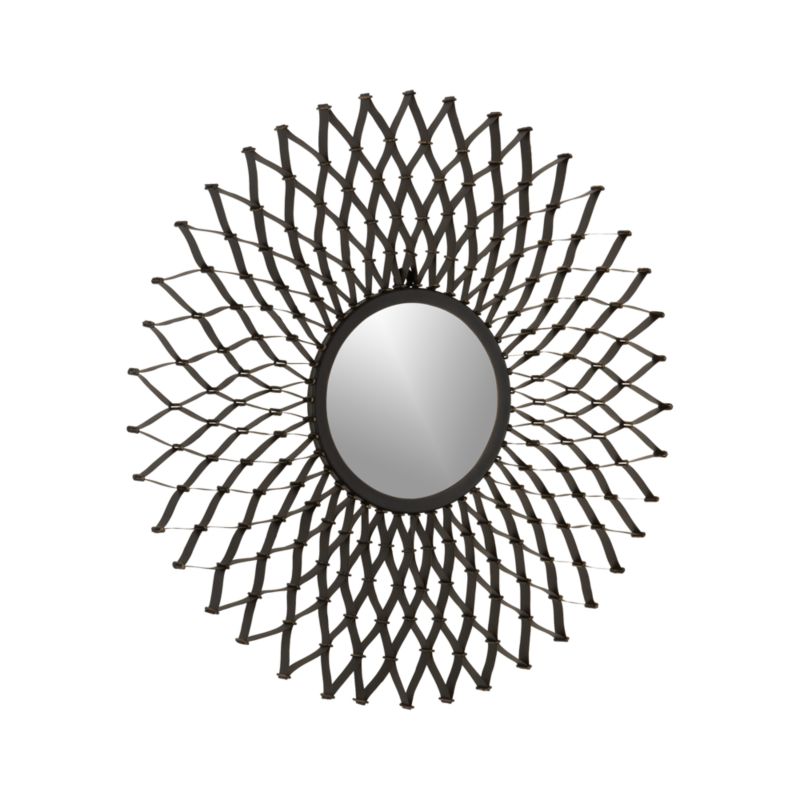 Dahlia sunburst by Crate and Barrel
Long diamond on top
Short diamond on the bottom
To start, I attached a short diamond then long diamond around the disk. Glue each piece to the back of the disk then to each other.
I should have added all tear drops at this point, but I had strips of long diamond shaped cereal boxes all over my kitchen that I just wanted to use up with out having to make more. If you are going to make this, use tear drops on your third layer. Finally, glue all the peaks/diamonds together.
To hang, I made another disk slightly smaller than the one in the center. I cut a big hole in the middle of the disk by folding it in half and cutting a half moon shape. Then, I just glued that to the back. It looked like this.
Finally, I spray painted it with grey primer first, then used a metallic silver spraypaint. I may change the colors later. I may not.
I added a 7inch round mirror I picked up at Michael's for a few bucks (50% off). I glued it to the front disk with a product called Liquid Nails. I'm sure you can use hot glue, but since I was placing this above our bed, I didn't want to take a chance of it falling and hitting one of us (me, I'm sure it would have been me) in the head in the middle of the night.
I love projects you can do over a weekend. Get your glue guns out, eat your cereal, and have fun. By the way, did you notice in the first pictures I don't have a headboard. Oh, you know that will be changing soon too!